Tracy Gallup is an author, illustrator and lifelong artist. She has a BFA from Eastern Michigan University and an MFA in painting from Syracuse University. Tracy worked as an elementary school art teacher for many years, and celebrates imagination and childhood in her own artwork. She is the author and illustrator of 9 children's books, including My First Book of Haiku Poems. As a child, Tracy had and loved her very own collection of Tuttle books.
Tracy is the second in our ongoing interview series with women in publishing for Women's History Month.
---
Did anyone ever discourage you from pursuing the arts in college—or in life generally?
Life circumstances, encouraging parents, attending college during the freedom of the 70's, a supportive husband, and a lucky star have enabled me to lead a life of creativity in the visual arts. I attended graduate school for painting, but it wasn't until after that when I was teaching art to middle school students that I found my own personal voice. I had a class of girls and we made doll-like figures. I was inspired by an artist named Charla Khanna who made dolls as fine art objects, and after making a figure as a sample for the students, a new direction opened for me.
I spent the summer after my first year of teaching making patterns and molds and six months later was able to hire assistants and launch a craft business selling my work to galleries, museum shops and collectors across the country. We had a bookstore near us that specialized in art and children's books and that is when I became interested in illustrating and writing them myself. The figures became characters in my paintings and my work became more illustrative.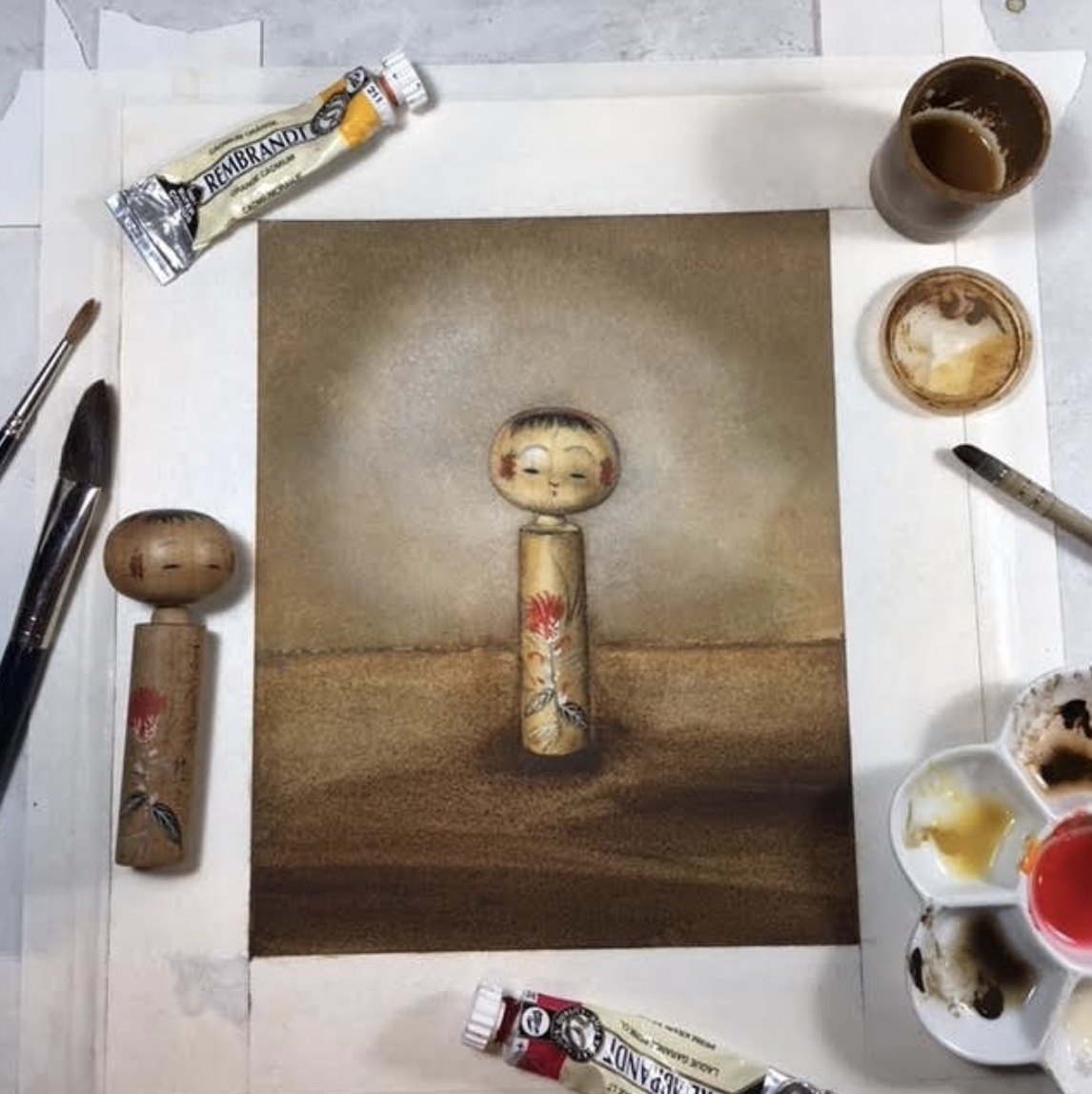 What is your creative process like?
One of the reasons I love working in the book format is because it gives me a structure to work within. It is like getting a body of work together for an exhibition but, to me, so much more satisfying. Sometimes I have ideas that I can't express properly and paintings that just don't work, and I have to start over or change my direction. It's discouraging and painful when this happens but I've learned to keep going during these periods. Things have eventually worked out in the past which gives me the hope that they will again. There are days when I feel inspired and others where I just dutifully get to work, but I am grateful every day for having something that I love doing. I never take this good fortune for granted, this wonderful life of creating.
Where do you draw inspiration from for your gorgeous work?
Although my work is illustrative I often look to fine art for inspiration and have spent many hours in museums, especially when traveling. I read a lot of poetry and the visual images that poets create with words inspire my paintings. It seems one thing leads to another and new ideas evolve from my past work, like a progression. I find it is a good thing to take action when a new idea appears, and not to put it aside to work on whatever I feel that I "should" be doing.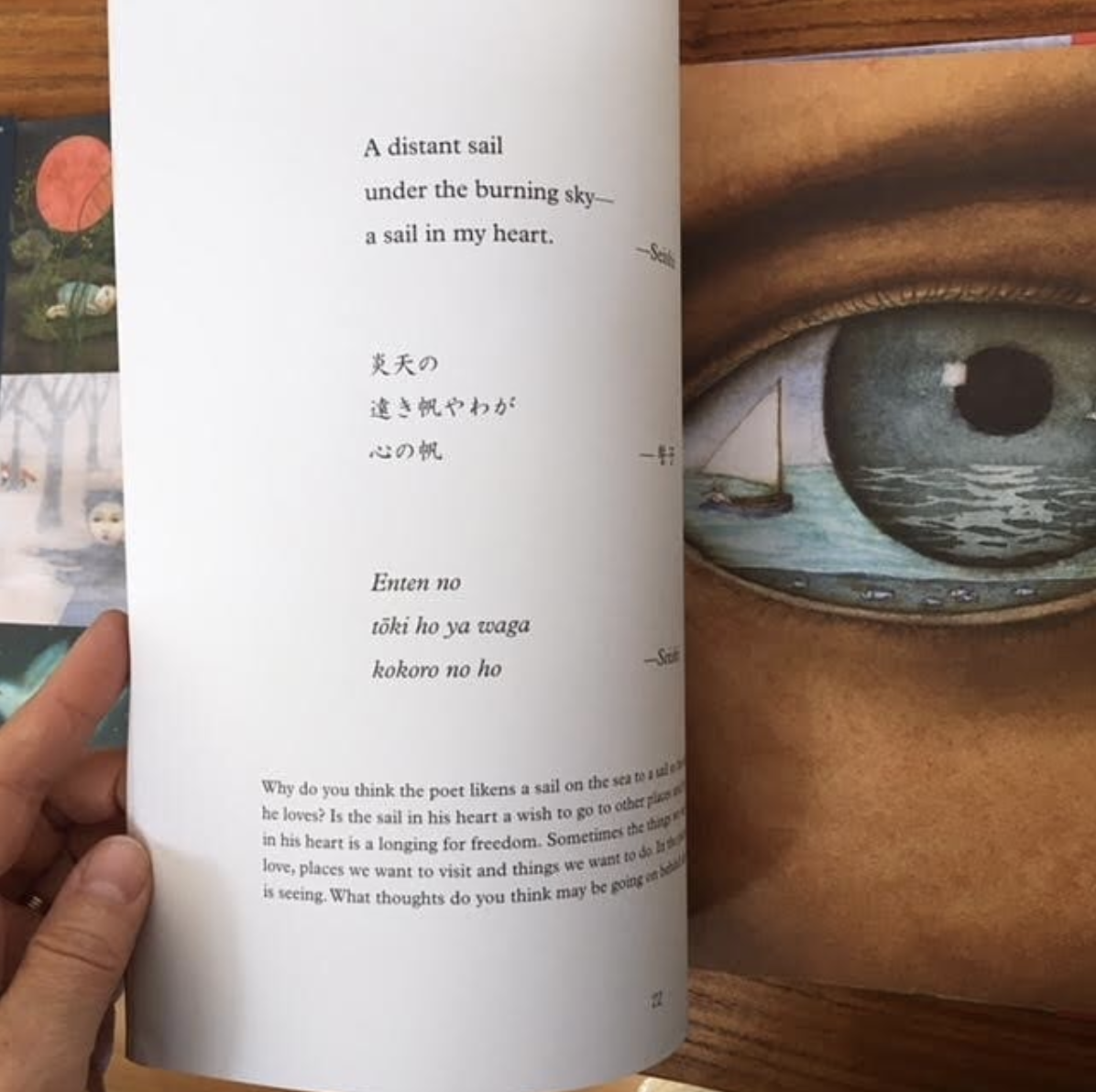 What do you think adults forget the most about childhood, and why is it important to remember?
I remember when I was in my late 20's and my mother wanted to clear out closets and had my sisters and me go through our childhood books. Looking at those books after many years, I realized that I was seeing them through my child eyes.The pictures were so magical to me, and that was when I became aware that children see things differently than adults. It dawned on me that a four year old child might not have a sense of what the seasons are. They have only experienced a few autumns! So they see them as if for the first time. When we speak to a very young child about summer or winter they might not even know what we are talking about.
Adults need to look at nature as if for the first time. The Buddhist teacher Thich Nhat Hanh talks about having a mindful day once a week where we move slowly and are aware of everything we are doing, not thinking about the past, future, worries, goals, etc., but being present to what our senses are experiencing. Maybe this is how life is for young children. We had a wooded empty lot by our house when I was growing up that we played in. I discovered a single mysterious, waxy white flower under the leaf of a low plant and ran home to tell my mother. I dragged her to the spot and she flatly said, that's a may apple, as if to say you silly, that's just a plain old may apple flower. To me it was a miracle rising out of the dirt and leaves on the ground!
What advice would you give to someone who is hoping to turn their art into a career?
I heard an interview years ago with a musician who was asked that question. He suggested that young people work toward two degrees, one in music and another in something else that will help support them. I have a teaching certificate as well as a BFA and MFA, and have taught for nine years at different points of my life, usually part time. I am surrounded with friends who, like me, found ways to survive in the visual arts. Having that community is helpful. Producing artwork for money is necessary but problematic because then you can be controlled by the market, by what people like and respond to rather than growing as an artist. It is a juggling act, and it's certainly hard to find the time to squeeze it into everyday life.